Keeping up with the latest news in the industry and top best practices requires a great content plan – for discovery, consumption, sharing and creation. Everybody has his own strategies of handling information overload. For better or for worse, there is no one system that works for everybody. The following are the tools I use to discover, share and read the best content, and ContentGems is a big part of it. Keep in mind that even though all tools have a free version, you might decide to invest in the premium in order to use all the features.
ContentGems
This has been my favorite tool for almost 3 years now. Each morning I start my day with a short email I receive from ContentGems. I follow several topics that I find important for me and my clients. ContentGems collects the feeds of selected top websites and filters them based on keywords.
Once you set your feed preferences, you'll see a similar screen: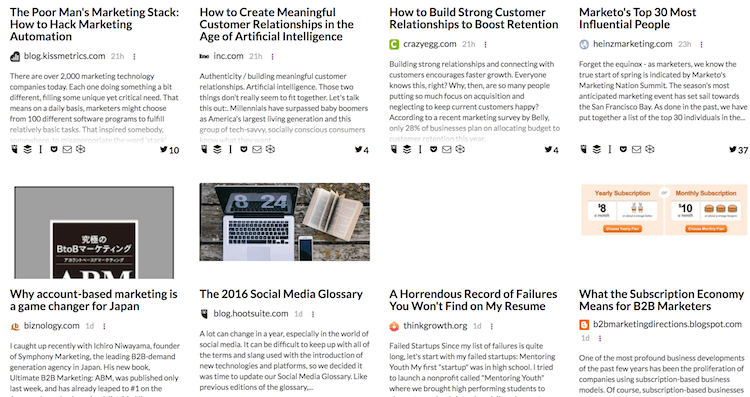 From this screen you can see what's relevant/interesting/popular for the timeframe you predefined. The next steps depend on you.
I'd personally click to read the most interesting articles and then share them if I find they'll be valuable to my audience. I use the Hootsuite connection as it takes just a couple of clicks. You can also share the articles with Buffer of via Email or instantly send them to Instapaper or Pocket.
Discovering great new content to read has never been easier. If you're using an RSS reader, you'll need to invest a lot of time in search of the right blogs and news outlets first. ContentGems discovers the right resources for you.
2. Email newsletters – Still a great source of information for every industry. You get the latest articles soon after they are published + some interesting tips from the experts. Don't forget to sign up for our newsletter too!
Content Sharing:
3. Hootsuite – All the articles I find valuable from ContentGems, I Auto-Schedule with HootSuite to be shared on Twitter. Make sure you've edited your Hootsuite schedule to fit your best times to tweet.
4. Buffer – I schedule my blog posts to be shared on social media with Buffer. I believe it is by far the easiest tool to use and I can keep track of different stats. But even Hootsuite is great for that purpose. I just prefer to mix up my articles into the other content I share.
Content Consumption:
5. IFTTT – I don't always have the time to read the whole article that I've just shared or scheduled. I use IfThisThenThat to automate sending those valuable contents to Pocket. I have several different recipes – any link I tweet or retweet is added to my Pocket reader so I can re-read at a more convenient time.
6. Pocket – desktop app, mobile app and Chrome extension. I never expected Pocket to become a big part of my daily content plan, but it has. It's the easiest way to store articles for later. The important thing is to actually remember to attribute the time and read that information as it tends to pile up pretty fast.
BONUS: Content Creation:
7. Flycut – this lightweight OSX program is my most favorite thing EVER! I often see myself copying different parts from a document just to paste them somewhere else. Flycut can remember up to 40 copied items – and you can paste them with a click. Far easier than constantly switching between browser or document windows.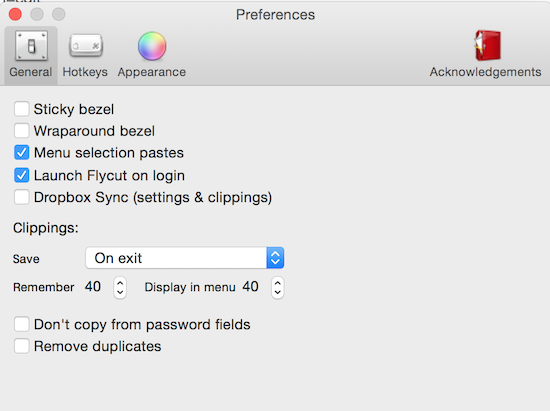 What tools are you using on a daily basis to discover and share content with your audience?