Online summits are a great tool in your marketing mix. They can help you achieve your main objectives like drive more traffic and get more leads, get exposure and reach new audiences, learn new things and make connections with top experts in your field. If you're already using Ontraport, you don't need to spend hours researching online summit tools to help you host it – you already have the best software available.
What is an Online Summit?
An online summit is an online conference providing in-depth information on a topic, featuring experts in all relevant fields. It spreads over 4-20 days, usually around 6, and features between 3-10 interviews per day. You have a main topic and then you can have daily themes for the content you're providing.
Usually, you will pre-record all interviews, as it's very complicated to get 20+ top experts join you live, not to mention the technical horror of making sure nothing goes wrong. The video interviews are provided for a limited time to be watched for free – usually 24-48 hours. After the time has expired, they are no longer available and a new batch of daily videos is released. Your attendees can choose to purchase an all-access pass for a fair price to get all video recordings to watch at their own pace, plus some special bonuses you decide to provide.
Why host an Online Summit?
Online Summits are a great tool to grow your list by reaching new audiences that you might not be exposed to at the moment, as well as positioning yourself as a top-expert in the field.
Partnerships
Think of all the experts you are reaching out to – they don't get paid for the interview, but they are given the partnership option to promote this event to their list and earn a fair commission on the sales they drive to you. This is a great offer for both parties, as the speaker only has to schedule a couple of promotions to their list and social media profiles and does not need to handle any technical elements. It's plain and simple for everyone, drives traffic and a lot of revenue.
You can help them calculate their expected commissions by sharing with them a formula to calculate expected ROI. The formula goes like this:
L is list size. CTR is standard Click-through-rate for emails send to the list. CRH is conversion rate on the sign up page. CRS is conversion rate on the sales page. SP is the sales price of your all-access pass:
(L*CTR%)*CRH%)*CRS)*0.5SP
(100,000*3%)*45%)*4%*0.5×50=3000 clicks turned into 1350 sign ups, turned into 54 customers, generating $1350 worth of commission.
You can use this Google Sheet to calculate your own numbers. Just make sure you copy it into your own account first.
Authority
This is, without a doubt, the most important benefit of hosting an online summit. You will be associated with top experts in the field, get access to their authority and audiences, grow your exposure in front of millions of new people and reach potential clients. If that's not enough to get you excited, I don't know what would.
Building your authority is important in this age – it is your main currency when reaching your potential clients. By associating with the top experts and getting them to be your promotional partners, you tap into their authority in their own audience. This is more powerful than running ads targeting their audience – as they recommend you directly.
How to do it with Ontraport?
If you're already using Ontraport, look no further for the perfect software to run this with. Here are a couple of reasons why I love hosting online summits with Ontraport:
Hosting the whole website content with them – so I don't need to worry about my hosting provider limiting access after I reach my limits. Every day when you open up some new interviews, the traffic to the website surges. Some hosting providers don't like such drastic changes and may penalize you. I prefer hosting (and building) all pages with the Ontraport page builder – it takes a lot of the technical pressure off.
Managing payments – Ontraport's order form and payment processing is just enough and what you need for this online summit. No need for special carts, as you can run one-time offers just as well, and even in a simpler way. Think conditional blocks.
Partner programs – Ontraport has an easy to set affiliate program built within. You don't need to look further to provide your partners with their links, data and everything else they might need.
The replay portal – I prefer to host my portal website with Ontraport too. That includes all affiliate date, as well as the all-access pass recordings post the event. Easy, efficient and just plain genius.
List management – you keep your main list and you summit list in the same system, mailing them only from one source, tracking everything in there. What's better? No, honestly – is there anything better than keeping everything in one place?
Cost of summit – Let's talk money. With Ontraport you're not paying an extra fee (assuming you're already using it), you don't have any limitations on traffic and number of registered attendees. You can have a very big summit, or a small one – and you don't have to fret about it beforehand while planning the size of the software package you need. Ontraport will grow with you – yes, you might be paying a bit extra for emailing more, or having more contacts. But you can just as well grow your overall revenue.
If all that got you thinking about hosting an online summit with Ontraport, maybe you're asking yourself how to do all that and if it's too complicated.
The Ontraport Online Summit Package
I've created a tested and fully functional campaign for you to host your first or next online summit with Ontraport. It includes all landing page templates you would need, promotional campaign, content delivery campaign, product delivery messages. Everything you can think about – it's in there! I've included a custom Trello board for you too – to help you manage all elements around your online summit. This includes the planning, communication, content, and what to outsource – a really thorough guide for the first-time summit planners.
You can get it inside your own account from the Campaign Marketplace. Just search for "Summit" and make sure you're looking at All Templates. Click on More to see what's included and confirm your purchase. In a couple of minutes you'll get everything created in your account. Then you need to follow the steps and update with your content.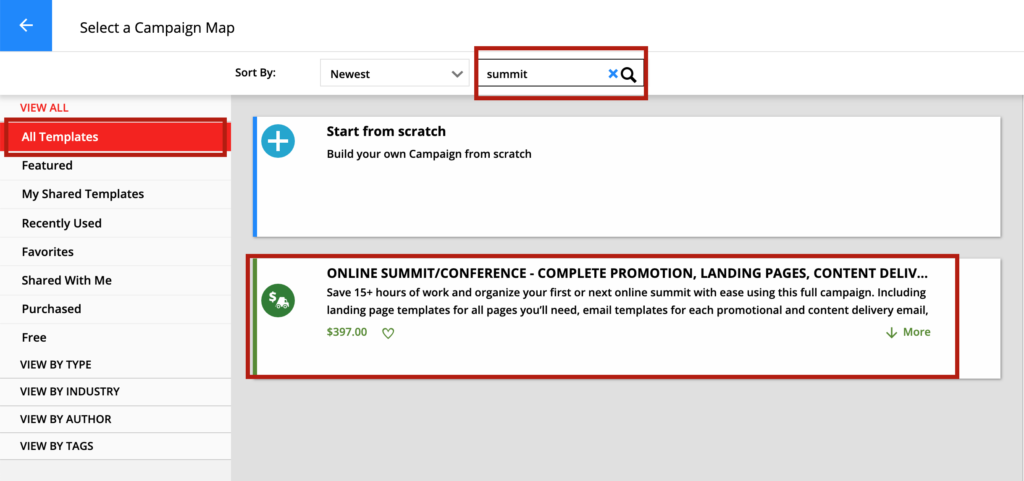 As a "thank you" gift from me, I'll be happy to give you a free 45-minute consultation. We can discuss how you want to host your online summit, or anything else Ontraport related. Just send me an email once you've purchased the campaign template and we'll schedule it.
And if you're looking forward to managing all that by yourself, but just need a little inspiration for the main summit pages – I've added 2 templates in the Landing pages marketplace for you:

You will find a Main Hall template – where you send your audience during the active period of your summit, and a Daily page template – to make it super easy for you to manage the hosting of the content. Both templates can be purchased for under $30.