Everyone wants better email open rates. We all strive for the maximum. This is why we created this simple guide with the 9 steps you need to take before hitting SEND.
We love helping our audience and the topic of deliverability is a favorite of ours.
You need to understand just a couple of things about it – if you follow some simple rules, you'll get better results. With an industry average of more than 30% not reaching the designated inbox at all, making sure you've made all the needed checks is highly important.
It doesn't require an extra budget – just a couple of minutes to review each message before scheduling it. And in time – you get used to checking all those settings and it becomes a routine.
Check the infographic – you can click on the image to view the bigger version and save it as a reminder.
Better Email Open Rates in 9 Steps
1. Segment your list
Make sure that you have answered a couple of simple questions before sending that campaign. Is it valuable for everyone on the list? Would it be annoying for someone specific? Is it a sales message – should you send it to previous customers? Your audience has a limited interest span. If you are constantly talking to your whole list with information that's not relevant, they'll stop opening your emails. No one likes spam and this is what these marketing emails feel like.
We talked about segmentation some time ago. Check the full article to learn more about it – segmented emails get better engagement every time.
2. Use a custom email to communicate with your list
Don't use your @gmail for mailing your list via your email marketing tool. Just don't! You'll end up in the SPAM box sooner rather than later. Free email addresses have been abused by spammers for so long, that they will result in terrible deliverability. You also don't look serious about your business.
We suggest you use your custom domain and create an email there. You'll build trust for your brand and the recipients will identify your address as genuine.
3. Write a captivating subject lines
Subject lines are like pick up lines – if you have a good one, your audience would be interested in learning more about you. There are simple tips for writing good subject lines. Keep them short, spark curiosity, don't click bait.
Here are some other tips on writing captivating subject lines.
4. Check your links
One of the most common mistakes that people make when sending marketing emails is related to links. If you're hyperlinking a URL, or use shortened links like bitly.com/something, you will see lower open rates. Only because your marketing emails are triggering the SPAM filters.
Check our article on the link mistakes you're making and how to fix them.
5. Check your images
Images are great and can provide a lot of value in your campaigns. But there are some simple things you need to update before hitting send.
The first one is to make sure you're always using the Alternative text setting. This is the text that people will see if your images don't load. And for most Gmail users – they don't load automatically. So use this hidden advertising space the right way.
Don't forget to check your image size too – I advise you to make sure it's the right pixel size before adding it to your newsletter. Any manual resizing will be broken by Outlook. So if you're in the B2B niche, beware of enormous images.
The last thing to review is the file size of the image – make sure it's small. You don't need to compromise with quality either. Use TinyPng.com to compress big images and keep their original quality.
More on the sizing and compression of images.
6. Review your copy for SPAM words
There is a big list of words that will raise the flag of the SPAM filters if used in a marketing email. They might not be enough to send you to SPAM or reject your campaigns altogether. Still, you need to be aware that the words you use affect your email deliverability and open rates. Here is a great list of words to avoid: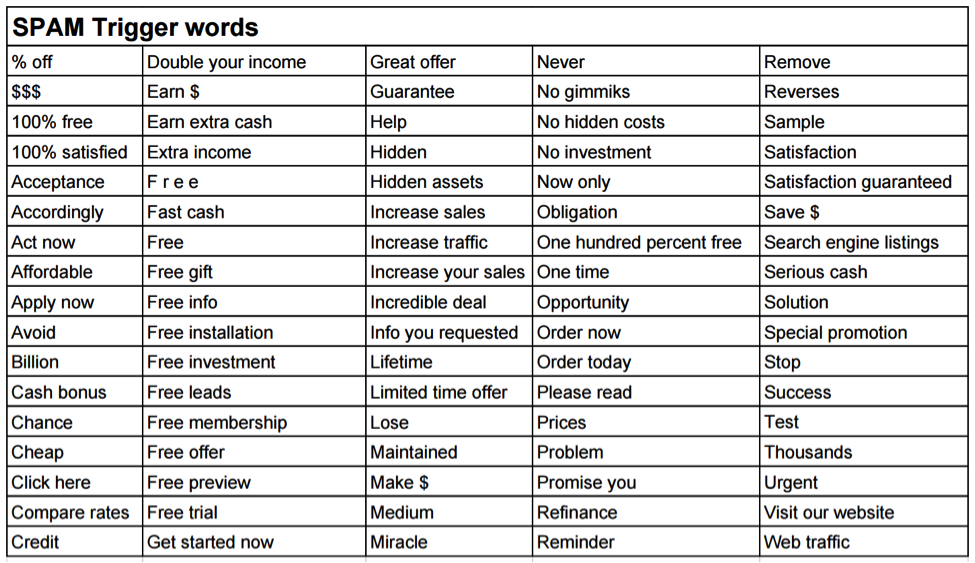 Read our more detailed article on the SPAM triggers to avoid in your marketing campaigns.
7. Check your SPAM score
The SPAM score is a calculation of the issues that a filter will identify in your message. It might be a blacklisted sender, a phishing link, using emojis in your subject lines, etc. There are many factors that come into play – your sender reputation is one of the most important.
We have 2 tools for you to try if you want to check your marketing campaigns before sending them – Mail Tester and Spam Check are the tools we use on a daily basis.
8. Format it to feel and look like a personal message
Do you enjoy receiving emails in fancy fonts and 10+ colors? I don't. They are hard to read, look awful and are not what I'd expect to see in your inbox in 2017.
When writing an email, stick to the following rule – make it look as personal as possible. If your personal emails are in multicolor and a crazy font – change your personal style.
Format your campaign with bullets, bold only the most important elements. If you overuse something, it's a formatting abuse.
9. Run a test or two
Before sending that email, make sure you send it to yourself. Most of the email marketing softwares have this functionality enabled. I suggest you also send it to a friend or colleague so that they can read it with a fresh set of eyes.
Once you're happy with the results, schedule and move on to the next task in your list.
Summary
Realistically speaking, these 9 steps take less than 5 minutes. But they save a lot of frustration and will help you optimize your email engagement rates. You'll see higher open rates from your list and more sales.
If you want to learn more about email deliverability and the steps listed above, get our free detailed ebook here