We are starting our tool comparison with a ConvertKit review as it is one of the lesser known tools in the market, but that is totally undeserved. It offers starter automation that is more than enough for most businesses. The level of integrations is outstanding and there is almost nothing that you'd miss if you switch to this robust system.
If you feel like you want a tool that is all-in-one and has the best features and price on the market, you need ONTRAPORT. Check out what are their new features after the latest ONTRAPORT 5.0 Release.
Let's dive into our unbiased review of ConvertKit and see if this is the perfect tool for your business. They target bloggers and content providers though it works for almost any type of business.
ConvertKit Review
Contact database
If you're currently using Aweber or MailChimp, you'll find the database system more advanced. Your current lists are now tags – you identify contacts that have taken action by assigning them a specific label. The beauty of a database is that you see all your contacts at a glance and all the actions they've taken so far. You don't need to go through all lists and check manually if a contact is subscribed to it. Once in your database, you can segment those prospects and send them different campaigns based on your marketing plans.
Responsive Optin Forms
Creating beautiful forms that work both on mobile and desktop devices is important. It's 2017 and Google is now ranking your website based on how mobile-friendly it is. The form editor is easy to use and there is no limit to the number of forms you can have in the system. Yay!
ConvertKit also has a great WordPress plugin that allows you to assign a custom form to any post. This means you can easily have different call to actions for each post and convert more. Even if you have just one leadgen, it usually offer solution to more than one problem. You can customize the product offering to be inline with your content. This will increase conversion rates and save you time from having to go in every post and manually add the forms yourself.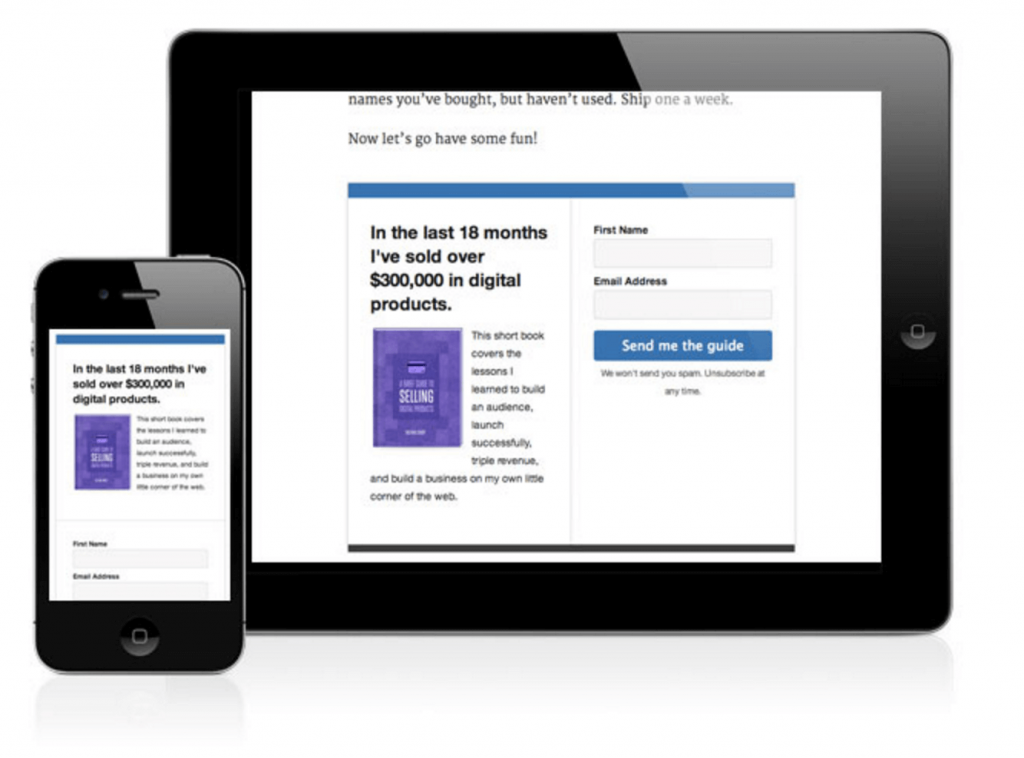 Responsive Landing Pages
Online marketing thrives on landing pages. You need one to promote your ebooks, one to promote your main product/service, one for guest posts, one for Instagram… If you're using MailChimp, ActiveCampaign or Drip, you have to get an external service to create them. You can choose ONTRAPAGES as they are free or $15/mo. But it's much better to have them for free in the email marketing system of your choice.
ConvertKit has a basic landing page builder with some templates. You can customize the templates with the visual editor. If you're not great with design, you can just go with the templates and add your content. There is an additional feature to past custom CSS code but most of you won't need it unless you have a very special brand font you want to use.
The limitation here is that you have to follow the templates. There is no drag and drop builder, no additional elements. But this is also a good thing if you want to do everything on your own and just want a good simple page.
You can host your landing pages on your domain or on your ConvertKit domain.
Unlimited Email sending
One of the most praised features of ConvertKit is this one. There is no limit to the number of emails you'll send on a monthly basis. This is great when your list grows and you want to do a major launch with a big number of emails. You don't get to worry about extra costs and keeping your emails under the quota.
This is also one of the main reasons why marketers like Pat Smith move from Infusionsoft to ConvertKit. Apart from the ease of use.
Segmentation
This is a standard feature for all database systems, and ConvertKit makes no exception.
A good automation system would allow you to segment your audience not only by tags, but also by actions they've taken. For example – you can exclude contacts that have already purchased the product you're offering, those that requested a refund, etc.
Segmentation is vital for successful email marketing campaigns. We covered it in a previous post.
Email sequences
Drip campaigns are another important feature. ConvertKit allows you to create an unlimited number of sequences to deliver your free content, nurture your leads, sell your product, etc.
The main difference with more advanced automation tools is that ConvertKit has 3 restrictions to your sequences:
Only emails can be added as steps. ONTRAPORT would allow you to add segmentation rules, tasks, SMS, tasks, and postcards.
All emails are scheduled to go out around the same time. You can't create a standard sales sequence where you send an email 9 and 3 hours before a cart is closing. You'd need a different sequence for each of those steps, or use a broadcast email.
No date sequences. There are two main types of sequences in the more pricey tools – step and date. A step sequence is a standard drip where you get the next email according to the time you signed up to it. A date sequence would send the emails only on a specific date – credit card expiration, birthday, webinar reminder, etc. We usually use date-based sequences a lot when doing launches, but with ConvertKit you'll need to work around this restriction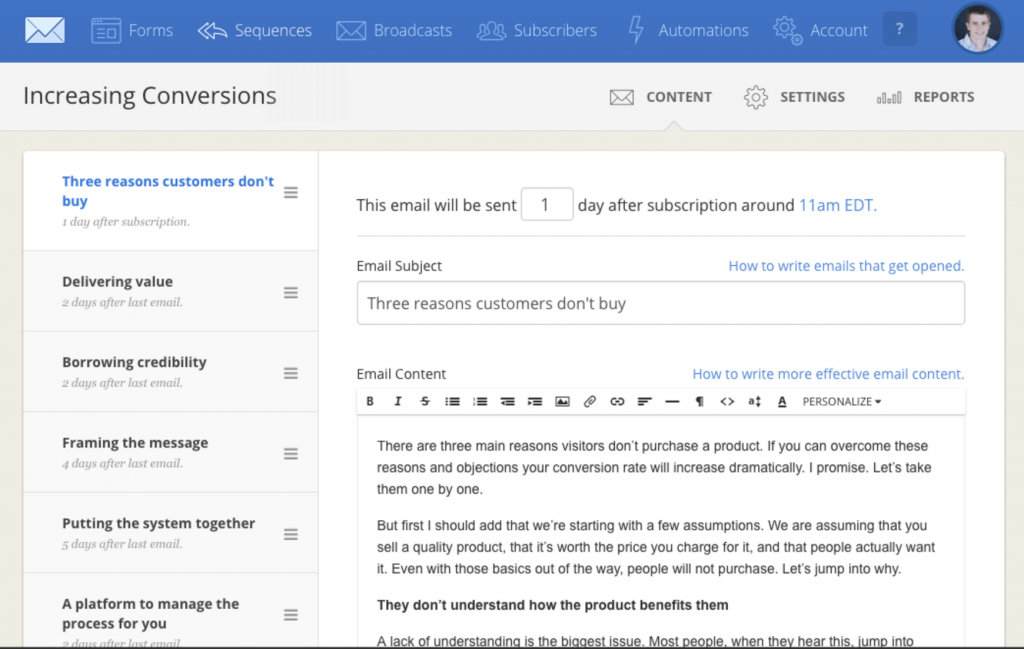 Newsletter broadcasts with segmentation
When you want to send an email to your whole list, this is called a broadcast. Usually this is what sending a newsletter is. But with ConvertKit you have the additional option to exclude some of your segments for better targeting. This is handy when you're searching for a way to do date-specific emails for launches.
Something that a lot of bloggers like is the RSS functionality. Keep in mind that we don't recommend sending each of your posts to your subscribers as you publish – especially if those are more than 1 per week.
Marketing Automation
Rules are the power of automation. What you'll find with ConvertKit is simple and easy to set rules that correspond to your logic. A rule follows the structure IF this happens for a contact THEN do this. You can track if they visited a specific page, clicked a link in an email, submitted a form, purchased a product, etc.
Keep in mind that these rules would trigger for every contact that meets the requirements – not just for those that are in a certain sequence or with a specific tag.
We've found that even if you use a more advanced system like Ontraport, you might be underusing this powerful automation feature. Rules are the backbone of your system – they work so you don't have to. Once you set them to activate on an action taken by your contacts, you can track which lead is taking desired actions and automatically move them to the next logical step in the funnel.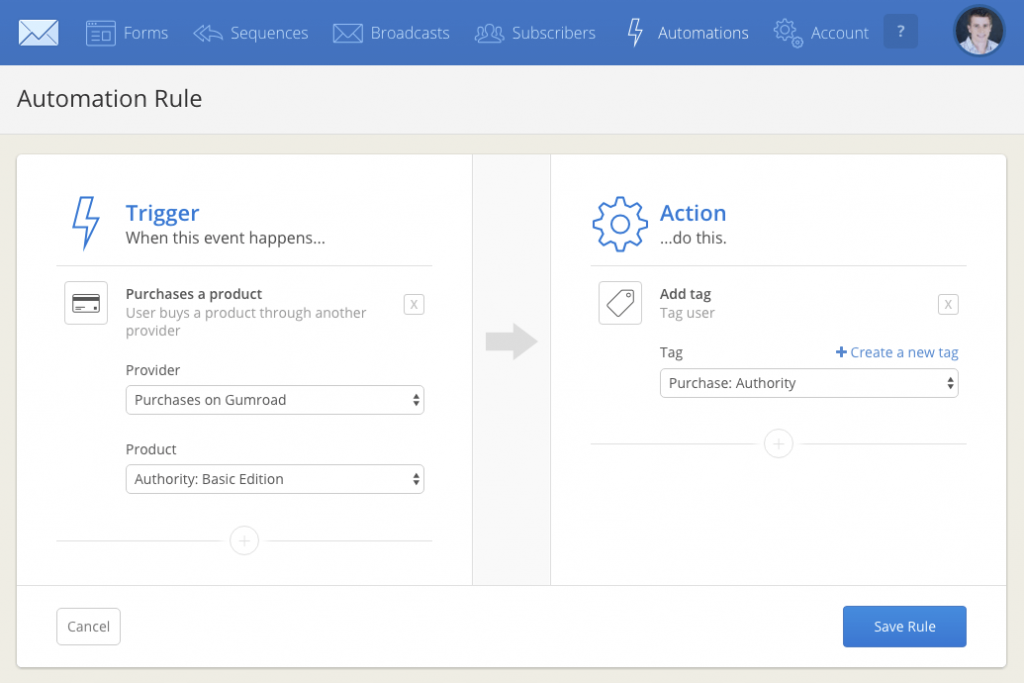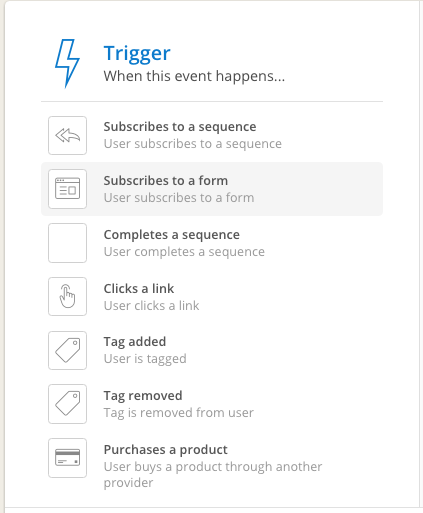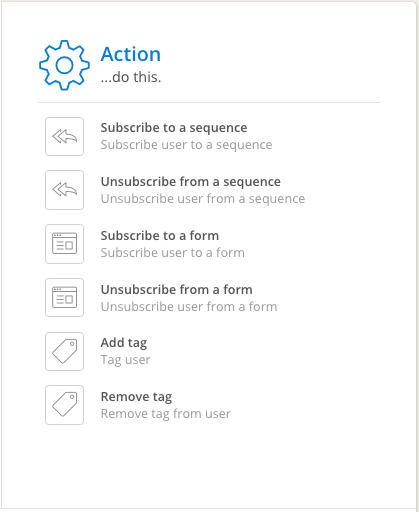 Email Templates
ConvertKit does not offer drag and drop editor or templates. They encourage you to write simple emails that look great on any device and follow the best deliverability practices. We've discussed why sending a simple email is way better that overusing images and other elements. It just feels more personal. On top of that – it saves you time from trying to figure out what colors and templates to use each time. In addition, you can save your emails as templates for easier use – if you want to keep some of the elements or formatting similar.

Integrations with other tools
ConvertKit is investing a lot of resources to bring direct integrations with a number of other applications you use. You can check the full list here, but here are some that we know you'll find valuable:
WooCommerce
Shopify
WordPress
LeadPages
OptinMonster
Zapier
SamCart
SumoMe
ThriveLeads
Thinkific
Teachable
Kajabi
What we like
Ease of use
Good automation level
Great and easy to use segmentation
Great design
Unlimited email sending
Good system if you don't want to over-complicate things or are not confident you can manage a more advanced automation system
Limits to the system
All emails in a drip sequence go out around the same time.
No date sequences – all emails are send at a relative time
Limits to automation rules – one rule, one condition, one outcome.
No direct payments through the system – you need an external shopping cart like SamCart or GumRoad.
Resources and Next Steps
If you feel like ConvertKit is could be your dream tool, you can sign up for a 30-day trial here. Keep in mind that this offer is not available on their website, but only through partners.
I hope you enjoyed our short review of this tool – keep us posted if you decide to switch from MailChimp!