Are you hesitant about hiring a freelance consultant? Here is why you should:
I've seen a lot of people losing profit and opportunities because they can't find the right person for a specific project. Most of them failed because they were not willing to accept that experts nowadays are not searching for fixed hours and office work. A freelance consultant wants flexibility and inspiring projects.
Here are my top 10 reasons why you should start working with a freelancer expert as soon as possible: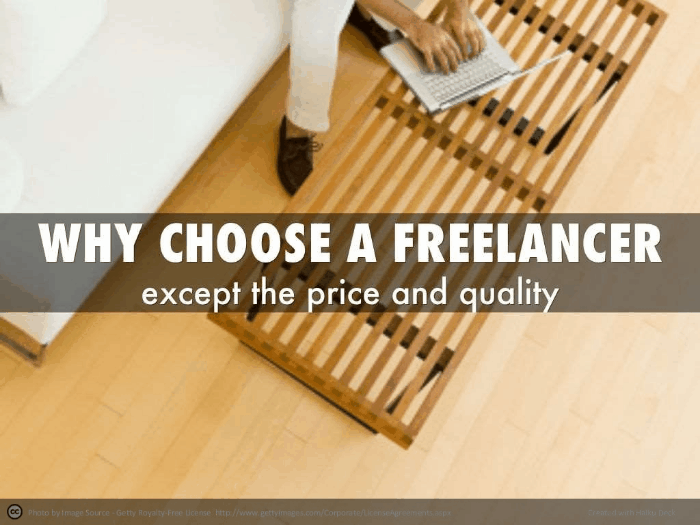 1. Qualifications
Contrary to what you probably believe, a consultant would probably have more qualifications and skills than a standard employee. They have worked on complex and diverse projects with different sized companies from many sectors. This makes your new consultant a far better match to any new project.
2. Devotion
Independent consultants don't rely on long term contracts and salaries. This leads to two great opportunities for both clients and consultants – a freelancer chooses really carefully the projects he decides to commit to and works with his whole heart towards the success. Maybe you gave him a list of tasks – he would find if something is missing and fix it, just because he knows the right steps to a project.
3. Save time
Let's assume you need to implement a new software solution – do you think it would be faster to hire a trainer who would coach your team and manage the implementation? Or using a contractor to get things going ASAP, design the process and then train your staff (or support you when needed)? I'm confident you would prefer a goal-oriented consultant.
4. Availability
Most employees don't open office email after 6pm and during the weekends – and they are right. But some freelancers (even in a different time zone) would go through their mail and respond – even in the weekends and sometimes at 2AM.
5. Fresh ideas
A professional that works on different projects for different industries has a far more open approach to problem solving. Your team might be stuck in a box just because you know every single aspect of your company or you are far too used to doing things one way. The contractor could show you a simpler and better approach that might end up saving you a lot of money.
6. Benchmark
I hate working in the dark – and sometimes you just don't have enough data to evaluate results. Your consultant has managed a number of similar project – thus she knows if yours is going great or if it needs optimization. Don't be afraid to ask for information and suggestions.
7. Resources
Your freelance consultant knows other contractors and has access to different resources that you might not even be aware of. If you need something done fast, the chance is he knows the right people and could take action. A freelancer is not a lonesome warrior taking over the enemies by himself – there is a great team behind that is ready to take over when needed. Be it design, web development, support, content – they know the right people. A bit like a freelancer mob.
8. Honesty
This is something you would rarely get from an employee – unless you have the ultra-cool office culture. A contractor would let you know which part of your offer is bad, what marketing activities would never work and are plain useless. Yes, she would do it carefully and with a smile, but she would also suggest working alternatives and a way to optimize. Are your employees taking action like this?
9. Quality
Yes, quality is a big plus when you choose to work with a contractor. Most freelancers have a vast experience in the field they are working in – both traditional office experience and the free one. It is hard to be independent and deliver poor quality – the feedback would be crushing and all around the web. Have you ever hired someone with poor or no feedback?
Sure, you could always find someone cheaper but then you know that you are choosing the poor quality.
10. Price
Freelance doesn't automatically mean cheap – this is a big misunderstanding about contractors. But in the average an independent contractor is not an employee – you could have a pay-as-you-go contract and only use his services when needed. No need to pay social security or a base price that I call "Availability Tax".
I hope I managed to answer your question and that you are now more confident about hiring a
freelance consultant
for your next project. Let me know how that goes! In the meantime – you can download the deck on SlideShare.